Adobe Certified Expert & Instructor


40.016 reviews / 275.491 students

Get all the design skills you need.
Practical courses for real projects.
Get unlimited access to all of my courses and learn at your own pace. Get help fast and learn through fun exercises. Both beginners and advanced users are welcomed! Just 3 payments of $129.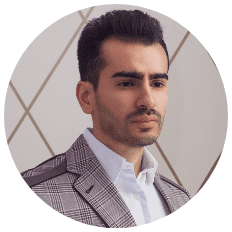 About Chris Barin
Certified Adobe Instructor & Expert, Founder of Ohvaz, Founder of Theme Junky (app design studio 2013-2018), best-selling instructor, former top freelancer at 99designs.com, Author of "One Million from Photoshop", teaching since 2013, specialized in web & app design.
Create value through design
Help companies grow and you will be well paid and respected.
Learn to design
Unlock many opportunities by knowing how to create beautiful designs
Learn to use Figma, Adobe XD, Photoshop like a pro
Create beautiful website designs
Make your designs interactive through prototyping
Learn how to freelance successfully
Design mobile apps that look great
Understand what it takes to make the client happy
Prepare your design for coding
Learn from all my experience as an entrepreneur
What you'll learn & what you won't!
Comprehensive courses on Photoshop, Adobe XD, Figma, Freelancing, TikTok Ads, Starting an online business, and more!
Learning to design changed my life!
In my early 20s I worked as a door-to-door sales agent. It was lots of work and little pay. I discovered 99designs.com, a platform where you would design websites in Photoshop (it was 2010) and you would get paid only if the client liked your design best. That's how I got started in the design world.
In short, I won over $50.000 by doing web design in Photoshop for 99designs.com. I then started several businesses, most of them revolving around designing. For example, my app design studio, which I ran from 2013 to 2018, where we created beautiful mobile apps. We ended with over 200 million downloads.
Nowadays I use my design skills at my company Ohvaz, a healthy food start up in Romania. I design packaging, Facebook Ads, presentations, brochures, outdoor banners, the works! This is what I propose you do as well – create lots of value for companies from all over the world.
If you can help companies sell more through beautiful designs, you will be very well paid. It doesn't matter if that means a new website, better social media posts, better Facebook Ads, what matters is you leverage your designs skills and help those companies.
– Chris Barin
boring theory
outdated design principles
every single tool in PS, XD, Figma
high-end beauty retouching
compositing
photography
digital painting
how to draw
"Everything in my courses is focused on getting results fast! No boring theory. I know what it's like to pay rent based off design projects and you can tell through my teaching style."
Learn to design & be confident
The #1 thing that learning to design did for me was making me feel like I'm in control of my own life
People who are interested in learning Figma will benefit greatly from taking this course. This course taught me, as a novice, that I must first accomplish things correctly such as a button, card, header, footer, color scheme, and pixel perfect before I can focus on being creative. I learned this lesson as a result of doing this course. Thanks!
Rodel N. Rabadon


Chris is an amazing educator and explains everything very clearly. He walks you through step by step and explains why he is doing it. I really love his courses and would refer them to anyone wanting to learn design.
Wendy Hannah

A great teacher, covers everything well. And excellent explanations. Already saved me $10 a month on my adobe purchase ! i was paying for something I did not need. Great tips already.
Ed Kratz


I'm only just starting this course, and I'm already enjoying it and learning so much already. The tutor is so easy to understand, and explains things so easily, then what with the PDF'S included, this is definitely my go to course. Would definitely recommend . Thanks Chris.
Michael Twell


Extremely practical and to the point. He obviously care a lot about his students actually understanding and mastering the techniques.
Lukas Chudy


I haven't complete the course yet. Nonethless, so far I have learned many tricks and stuff that I did not have any idea of. It has been a great experience and can't wait to finish it!
Daniela Castro Enríquez


6 ways to create value
Here are some of the ways you can help a business grow through your design skills