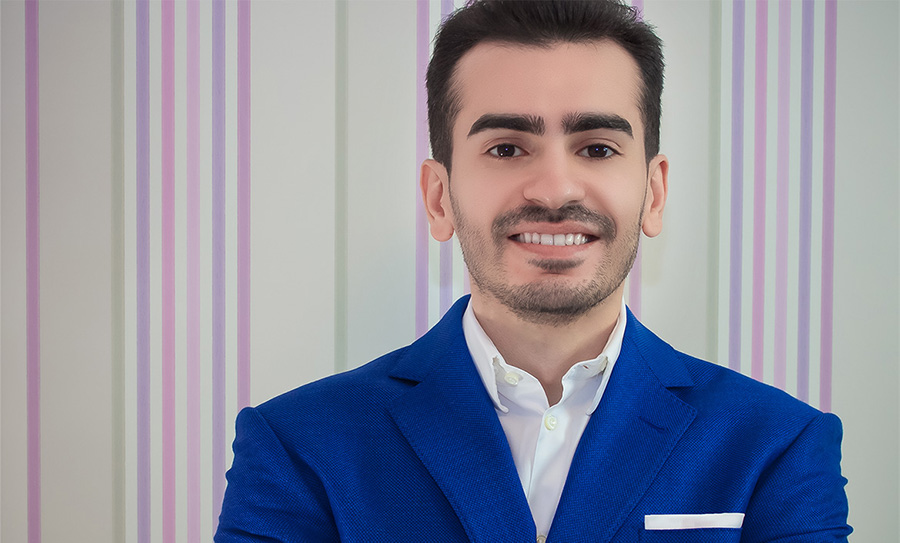 Hi, I'm Chris Barin and this is my story. If you want the ultra short version, here it is:
I'm an Adobe Certified Expert in Photoshop and an Adobe Certified Instructor;
I've been teaching Photoshop on Udemy since 2013 and my courses rank #1, #8, #13 in the Design category;
I have taught over 200.000 paying students from all over the world and I have over 24.000 reviews;
I've freelanced on 99designs.com in the web design category and I earned over $50.000 by working in Photoshop alone;
I specialize in web design, app design, graphic design;
I'm the CEO of Ohvaz, a healthy food start up in Romania;
2013-2018 I ran an Android design studio that created beautiful personalization apps that got over 120 M downloads;
I use Photoshop every day for my businesses.
And just in case you want to check out some links to verify the information from above, here's a list. Plus, I also have a book called "A Million out of Photoshop" that details every single aspect of my success, though at this point in time it's only available in Romanian, my native language.
How I use Photoshop?
I use the program just about every day for my businesses. I create content for social media, indoor ads, web banners, Google Ads, YouTube thumbnails, brochures and business cards for my sales agents, newsletters, and so much more. The idea is to create value through the program. All this content raises the value of my companies, whether it's the former mobile app design studio or my oatmeal business in Romania.
It's really important you understand what I specialize in. Photoshop is an extremely versatile program that can be used for all sorts of projects. I chose to focus on the following:
web design;
app design;
graphic design;
On the other hand, I completely disregarded the following topics/areas:
digital painting;
high end photo retouching;
compositing;
I deliberately chose to ignore certain niches for a simple reason: there aren't enough hours in the day to do them all. That's what I constantly tell my students – specialize! If you want to learn a new language, choose one! Don't start learning three at the same time even if the sort of sound the same. Being mediocre at three things is not going to make you happy.
A few personal details about my journey
I grew up in a modest household in Bucharest, the capital of Romania, along with my parents, older brother and sister, and two cats. As far as school is concerned I was a good student up until I entered college. I had no idea what I wanted to do with my life and after I dropped out of one of the best universities in Romania, I randomly chose Accounting as my specialty at another college.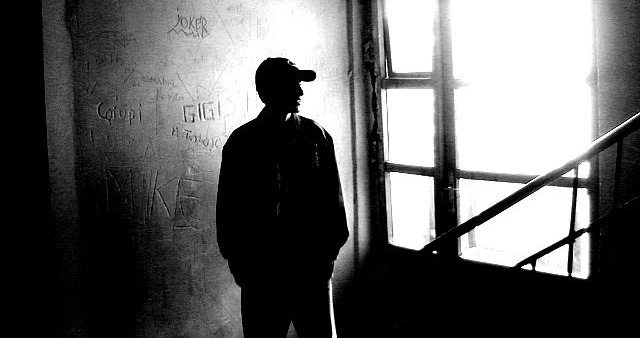 I played Starcraft: Brood War for about 15 years or so which dramatically increased my ability to concentrate for long periods of time. Moreover it increased my typing speed to a point where I can comfortably type as fast as I talk: 90 words per minute, 399 characters per minute. I'm a big fan of the sitcom show MASH, I enjoy working out, and I'm an avid "reader" on Audible, the audiobook platform.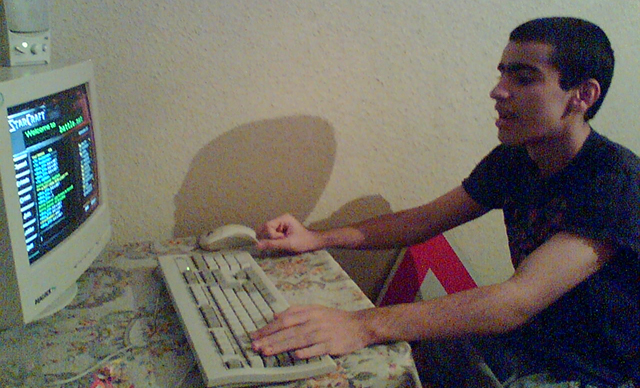 My interests as a teen were based around my terrible computer. As you can see in the photo from above, it was quite outdated, even for that year. This meant I couldn't play the latest games or spend my time using software that was too demanding. Thus, all I could do was play Starcraft, listen to self-help books by the likes of Tony Robbins, and read up everything I could get my hands on in terms of personal development.
My interest in the 'self help' niche stemmed from the fact that I was constantly looking for ways to get out of that crowded apartment and out of poverty. We weren't dirt poor, don't get me wrong, but it was embarrassing to wear my brother's clothes or not being able to afford anything other than the absolute basics. "Frustrating" is the key word that sums up my teen years.

How did I discover Photoshop?
I tried everything I could think off to make some money. I tried playing poker, I got into pyramid schemes, I grinded away on PTC websites (pay-to-click websites where you clicked on ads), I had a blog, a vlog, and the list goes on and on. I was short, skinny, a bit awkward compared to most of my friends, and I desperately wanted to "level up". Most of my projects fell through. Looking back, that seemed predictable. But I never gave up!
I started working as a freelance web designer by doing various projects in Joomla, a platform somewhat similar to WordPress. Needless to say I didn't have any previous experience, but I did have access to various themes and templates and I did my best to customize those in order to satisfy the very few clients I had. Any edits requested by my clients were a major headache simply because I didn't have the knowledge to execute them. I also worked for pennies. All in all it was an intensely frustrating experience.
My experience on 99designs
I discovered 99designs through a friend. That's how I discovered two concepts: crowdsourcing and web design in Photoshop alone.
Crowdsourcing is a cut-throat environment where clients post a brief and a prize, say for a new website they would like you to design. Anybody from all over the world can submit an entry, i.e. a completed design, and the client, after a while, picks the best one in his eyes. No coding is involved.

About 99designs
It's extremely competitive because you do all the work upfront and without getting paid a dime. In most contests you can expect to compete against anywhere from 20-30 designers all the way to 50-60. And each designer can submit any number of entries. Thus, a client is showered with literally hundreds of concepts. All for a prize that ranges from $475 to $2000. That's a steal.
Again: you do all the work in advance and there's only a 1 in, say, 40 shot that you'll get paid. Plus, here's a great statistic for you. The best guys in the web design category manage to win about 13% of the contests they enter. Otherwise said to win 1 contest you have to participate in 10. Losing 9 contests is a huge glow to anybody's morale. When you factor in the competition's incredible design skills, you can see why a lot of people give up on trying to make it on 99designs.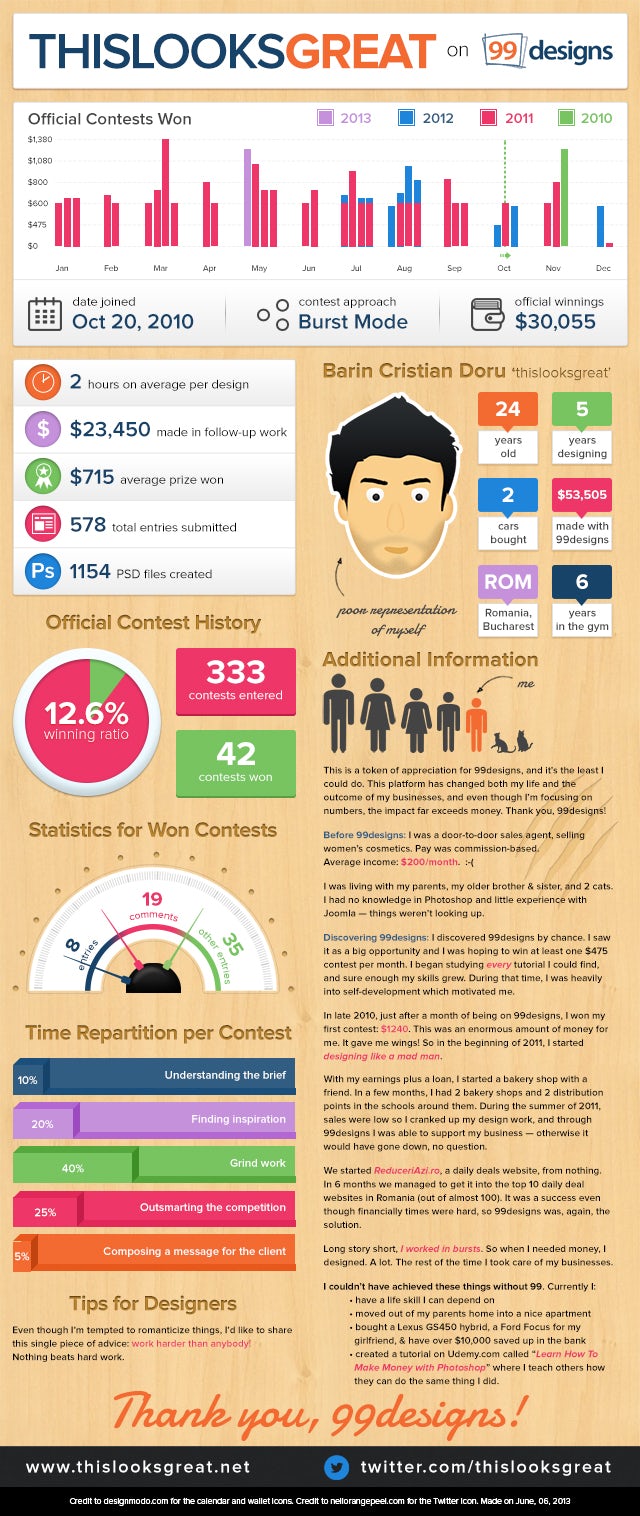 I, on the other hand, was shocked to see I could create a PSD and get paid for it. Those long nights working in PHP code that I didn't understand really made a mark. Working in Photoshop was a breeze. I was excited to participate even though I didn't have any previous experience. After all, I was only 20 years old. But just like that, in October 2010, I jumped in, head first, into this Colosseum of designers.
I worked on 99designs for about 3 years. I participate in about 400 contests and I won 49 of them. When I last counted, I won over $53.000 from this platform alone. Factoring a couple of other projects on other platforms and that sum goes up to $59.000. What's more interesting is that I won my first web design contest after 3 weeks of registering on 99designs. I won $1247 for a 5-page project. The entire thing took about 20 hours of actual work. That … was amazing. A quick win that gave me wings, hence my pretty nice stats.
Here's an article on 99designs' blog about me.
My only job: door-to-door sales agent
I don't remember exactly if I worked as a sales agent before or after I was making websites in Joomla. Some of the details are hazy in mind, though some of them are as bright as they could be. For example, I know I was making around $200 per month. I was working 9 hours a day, in the blazing summer heat, on foot, in my baggy hip-hop inspired clothes.
I sold cosmetics out of a bag. Nail polish, creams, eye liner, you name it. I was part of a fleet of young guys and gals that were willing to endure this incredibly difficult job where you had to be: a) physically fit so you could travel a lot of foot; b) charistmatic so you could form relationships in order to sell more; c) thick skin so you wouldn't get demoralized by being rejected 9 out of 10 times.
The point of the story is that between this 3 month job and trying to brick together Joomla websites through various plugins and themes, Photoshop seemed a breath of fresh air. No more working around the clock for pennies.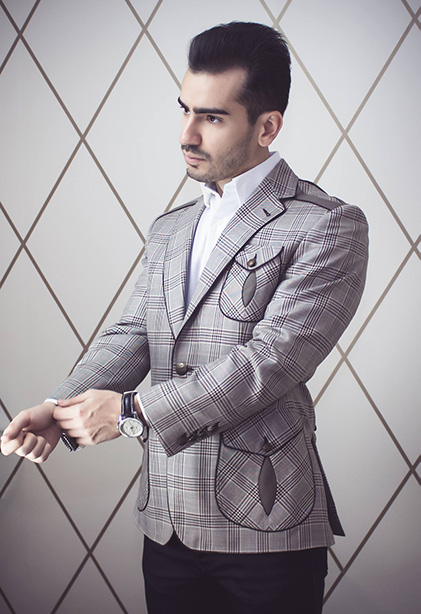 Why I started teaching Photoshop
Frustration was my main driver.
On 99designs I was amazed by what other designers were submitting. Their quality was top notch. When I first got started, I felt intimidated and I had no idea how I could close the humoungous skill gap between us. I realized I needed to learn more about Photoshop, working with clients, and doing better. I started looking for tutorials, courses, any training programs, free or paid.
There was nothing out there that spoke to me. I watched everything I could get my hands on, but they were repeating the same things over and over: here are the settings for the brush tool; here's the clone stamp tool; here's how you resize a photo. I wasn't interested in any of that. Typically, out of a 5 hour course I found about 20 minutes to be actually worth while.
When I started winning design contests even though I was competing against seasoned designers I knew I had uncovered something. I thought I could share my insights that lead me to quick results without any formal training or years of experience.
I created my first course for myself. It's what I would have wanted to watch when I first got started working in Photoshop. Basically it was a training program for my younger self. I wanted to give people what I couldn't get.

Why I started teaching
My first course on Udemy
Learn Photoshop, Web Design & Profitable Freelancing (this is the second version of it, totally redone). It took me 8 months to make it. Ridiculously long. I didn't have a decent microphone, my English wasn't great, and I knew nothing about video editing. I did my best with what I had, but my accent was one of my biggest problems. So I decided to hire a voice actor. He was extremely expensive so I could only afford to pay him for the first two-three hours of the course out of the total 15 I had planned for.
Long story short – after four months of almost no sales, Udemy saw it as worthwhile material and it started promoting it. It got great reviews so it promoted it some more. My students were consuming more content, about 37% more, than similar design courses so Udemy pushed me further and further. The result? Over 50.000 students from this course alone, fantastic reviews, and 6 figures in the bank.
Key points:
I didn't do any marketing. I didn't have a newsletter, I didn't know anything about selling online. After 6-9 months I tried investing about $5000 into various ads, but I only made $800 back. The point is – I didn't promote the course.
My students were raving about my practical approach. In the course I talked about things that any freelancer encounters. I didn't talk about the brush tool and its settings. I spoke about how to get more follow-up work from clients, how to pick the best design contests, how to interpret the brief, and so on.
In the course I showed how I actually earned $4000 from doing website designs in Photoshop. The exciting thing is that I also showed how I lost some design contests. Those were valuable too. The course felt real and relatable.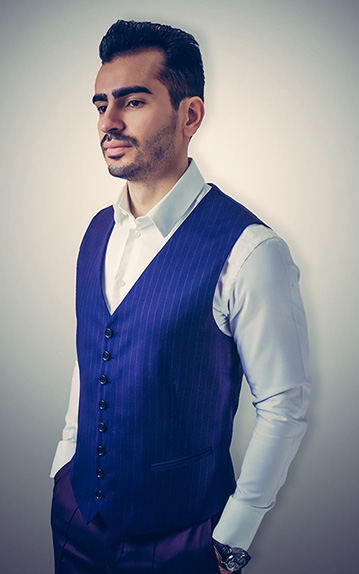 My career on Udemy
I started teaching in 2013 and I've been going strong ever since. I had a different way of going about it. Similar to 99designs where I tried to outsmart my competition, on Udemy I didn't create 50 courses like other instructors. I remember at one point I had two courses and about 140.000 students. A superstar instructor had tens of courses and 3-4 times my student number, yet his earnings were similar to mine (the instructor in question constantly posted his earnings on the Udemy forums).
Right now I have over 200.000 students and over 24.000 reviews though when you're reading this, hopefully, those numbers are probably a lot higher. I only have a handful of courses and I'm publishing one-two every year. I never taught people full time. I've always had at least one business with actual employees and responsibilities. Somethings two or three at the same thing.
While teaching Photoshop is lucrative, I strive to constantly build things. Projects that excite me. Whether it's healthy food, mobile apps, or some innovative way of doing something old and established, I try to be productive every single day. This means that my time is always stretched thin. While I'm happy my courses have reached so many people from every part of the globe, I realize some of my students need more help. Hence this platform.
Why do I teach here?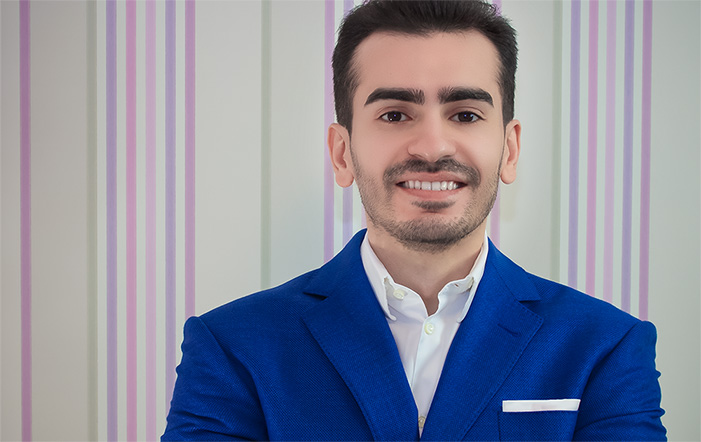 Some of my students have outstanding potential to make a fantastic living out of Photoshop but they need help. Talking to 200.000 people is a challenge that can't be summed up in a few words. I use teaching assistants and various tools to help me be more productive, but alas it's never enough.
This platform is reserved for those people who need direct access to me. Review their work, help them set up a portfolio, give them advice on this and that, all through live chat. It's for those students who feel they could benefit from talking with me.
You get unlimited access to all my content on Photoshop, web design, app design, graphic design, freelancing, Adobe XD, 82 hours of content to be exact, but more than that you get a direct line of communication. Hopefully you can leverage this information and achieve your goals through my help.